Wardrobe Clearance at Great Prices!
Many pretty tops, shorts, dresses, blazers from Megagamie, HerVelvetVase, LollyRouge, Love and Bravery, LoveBonito, Agneselle, Odorikoya, TracyEinny! Prices from $12! Most items under $20!
Email me at ellynethegreat@gmail.com; $1 off for immediate confirmation
Payment to be made within 24 hours of confirmation
Everything BNIB in excellent condition
Prices non-negotiable; emails on negotiations will be ignored
No trades; emails on trades will be ignored
Meetups available along the NEL and Somerset only
Prices inclusive of normal postage
Deadbuyers/MIA will be blacklisted
Megagamie Utilitarian Contrast Top in Rouge Pink
Going for $20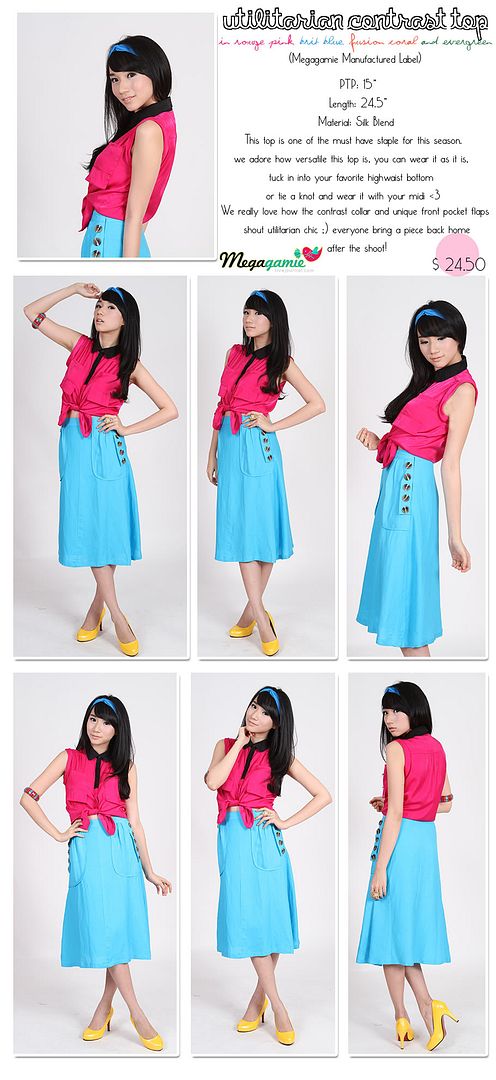 HVV Satch Chiffon Blouse in Forest Green
Going for $15
Made of quality chiffon, Inner lining: non-sheer, Complimentary sash, Opt to wear this tucked in with high-waist shortsor tucked out with fitting or tapered pants, For a more fitted look, tie the sash tightly at waist level! Measurements: Model is UK size 6/8, 170 cm, Pit to pit 19 – 20 inches, Length 24.5 inches, Sleeve 23 inches HVV Azure Silk Mix Maxi in Ebony

Going for $18
Made of excellent quality silk mix(refer to link below for close up picture!, Side zip; smocked back, Inner lining: non-sheer Pit to pit 15.5 – 18 inches, Length 50.5 inches
Topshop Inspired Ruched Asymmetrical Minidress in Sunshine
,
Going for $14
Pleated/Ruch detailing, No inner lining: slightly sheer, Thick racer-back Measurements: Pit to pit 16 – 21 inches, Length 30.5 inches LR Valedictory Prize Dress in Lavender
Going for $18
LR Quad Palette Maxi
Going for $18
Love and Bravery Coco Fleur Brooch Blouson
Going for $12
This vintage vibe ebony top comes with a matching fleur brooch! Comes in soft chiffon, sheer at back and can be worn with tube or just black bra under. MEASUREMENTS: 18"across chest, 24"length, fits UK 6-10
LB Palermo French Frock in Lilac
Going for $18
Soft, intricate look with nothing understated. Have fun this Spring with this flirty number! Made of chiffon, fully lined. Measurements: 16.5" to 19" PTP, down 30.5" (slightly stretchy)
BC Floral Skirt Going for $15
Another must-have this season!! Gorgeous prints and vibrant colours! Comes with elastic band behind and inner lining. Size zip. Fits a uk 6-10. Measurements: 12'' to 14'' across, 15'' Down (Purple)
BC Atlantis Arielle Bustier Going for $18
A gorgeous, flirty floral pencil cut bustier dress in strong bold hues. The perfect dress for a Sunday brunch or picnic dates and would look lovely paired with a pretty clutch. Made of silk satin mix. Measurements: 13.5-17" PTP (concealed elastic band, slightly stretchy), 33.5" down (measured with straps), 16" laid flat at the hips. Comes with detachable and adjustable straps.
BC Chanel Inspired Blazer
Going for $20

SPECIALLY MANUFACTURED BY BONITOCHICO! Another piece that Bea couldnt stop raving about and had to keep! A very structured and versatile blazer with shoulder pads to ensure the shape stays. Suitable for work or those important presentations. Made of structured cotton and thick. Not sheer at all. ptp 15" to 18" down 19"
BC Duo Tone Cocktail Dress

Going for $18
Made of satin and stretchy cotton, with adjustable straps and elasticised back Measurements: 33 inch down
AE Zoe in Aqua

Going for $13
AE ASOS inspired cut out toga dress

Going for $15
Stretchable, One sided toga, Cut out toga strap, Inspired by ASOS, With inner lining Measurements: pit to pit: 13- 17, Length: 32 inches, Fits UK 6- big UK 8 to small 10
Odorikoya Highwaisted Culottes in Heather Grey

Going for $15
Made of textured cotton material; Stretchable band at waist; Ribbon to tie at own preference Measurements:Width 13" X Length 15.5"
Dalita Ribbon Printed Top
Going for $16 mailed
Specification: Featuring comfy fit cotton top with printed polka dot ribbon along the neckline. Measurements: Approx pit to pit: 23.5", Approx length down from shoulders: 21" Model Joanne UK 6, 162 CM
HVV Taberna Trousers in Chrome Orange

Going for $20
Made of polyester, Slightly smocked waist band, Best worn cuffed Measurements: Waist 13 – 15.7 inches, Hip Measurements approx 20.5 inches, Rise 10 inches, Length 32.5 inches
AE Lantern Top in Mink Going for $25
This party perfect top is an absolute love among all our customers and AE Team. Pair with shorts or jeans for casual day out or pencil skirt for party Measurements: Pit to pit - 13 - 17 inches Length : 24 inches Details: Delicated pleated details, Inner lining, Stretchable
Sold/Traded Items
HVV Petal Accented Chiffon Frock in Cream CWC Cascade Waterfall Blazer in Pale Yellow HVV Cropped Grain Blazer in Greige Blue Size S HVV Tailored Leather Blazer in Nude Pink LB Shanna Cuff Chinos in Salmon Pink Size S LB Chloe Trousers in Khaki Size S HVV Caribou Playsuit in Blue HVV Bohemian Eyelet Skirt in Vintage Cream LollyRouge Magic Carpet Top HVV Piezza Wrap Dress in Dusty Pink HVV Sachi Oversized Blouse in Magenta LB Razzle Dazzle Playsuit in White Size S HVV Floral Tunic in Turquoise Megagamie High Waisted Shorts in Teal Size S HVV Drape Chiffon Minidrss in Cream HVV Filmore Eyelet Blouse in Fandango HVV Cuffed Work Blazer in Pale Grey Ohvola Ruched of Poise Dress in Navy
Comments {0}