G&G Korea Big Eye Barbie Lens Spree is Back!
SPREE No. 4 (: NOW CHEAPER AND BETTER!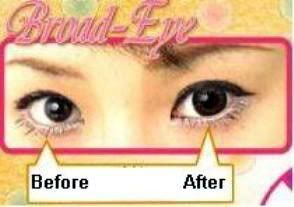 Wanna get big watery shiny eyes without any surgery nor oral medication?
Always crave to get big eyes like Korean actresses and famous Ayumi Hamasaki?

CRAVE AND ENVY NO MORE!

G&G cosmetic contact lens allow you to have bigger, shinier eyes yet feel fresh and comfortable wearing them.

Lenses are authentic as proven by supplier who shipped them from KOREA.
GET YOURS NOW!


Preorder Will End on 14th Nov o7!


1. G&G LENS
some models wearing G&G lens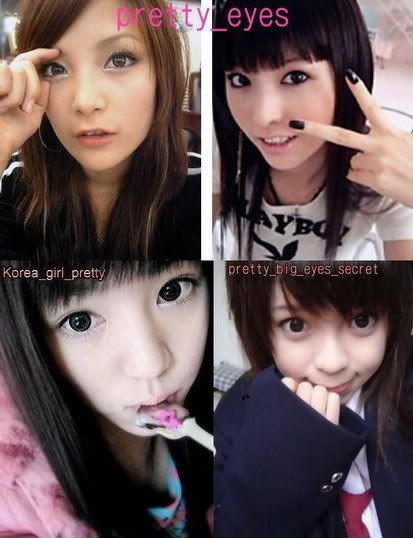 PERSONAL EXPERIENCE

G&G lens not only it helps to enlarge my pupil, it is much cheaper as I dont have to buy new lens every month! Besides, I can wear it for the whole day without feeling any discomfort!
I fell in love with the lens immediately! They are beautiful (:
The lens are avaliable in different colour tone, and they all look natural!

WHAT IS SO SPECIAL ABOUT THESE LENS?

1) The lenses are coloured + they have the effect of making ur pupil larger.
2) The colour is made using a sandwiched technology thus the colour will not run into your eyes. Sandwich technology - colour is being sandwiched in between the lenses, thus it would not come in contact with your eyeballs. This will means that the colour will not affect your eyes as we have heard reports of coloured lenses running colours on ones' eyes.
Here is a illustration of what I've mean: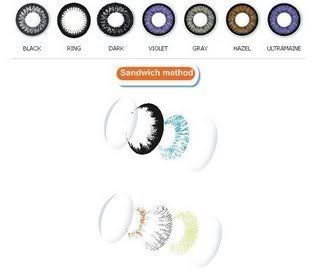 3) It is 100% safe for use and many celebrities are using this brand :)
4) One pair of lenses can last you for one year for proper care. This means SAVE TONS OF MONEY!!
5) The price of each pair of lens is $48/pair nett which include the handling fees.


Contact Lens Details

Water content of lenses- 35% to 42%
Diameter- 14.0mm
Curve of Lenses-8.5

Degree scope:

for degree lower than 500, can add up to 25 (eg: 4.25, 4.5, 4.75).
for degree above 500, please add only 50 (eg: 5.5, 6, 6.5)
for those without any degree, choose -0.00.

Certification: FDA, CE, ISO, KGMP, MHLW

Usage is 1 YEAR ( provided with throughout cleansing which is very important!! please wash your lens often and also wash carefully with protein tablets )

For more information
Pls view this website
http://gngcontact.com/chi/product_9.html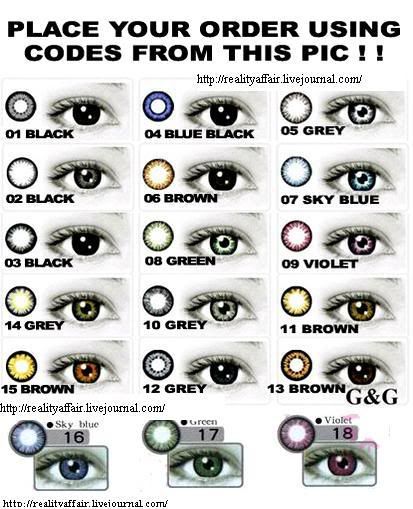 no 1- dreamy black (gives the most barbie dolls effect- darker series as got 2 rings- dreamy watery effect) (ifax series) most stars use this series but depending on ur own eyes
no 2- black( single black ring) (ifax series) black ring 1 tone - big eye effect + more natural looking
no 3- black( got big eye effect but the tone of black is not so much)
no 4- black when not under light.. but once under light, can see that it is blue in colour. if not it will appear as black
no 5- grey(2 tone- enlarge pupil)
no 12-dreamy grey( gives barbie doll effect)
no 6 -dreamy brown( gives barbie doll effect but big eye effect lesser - can see quite obviously that is copper brown in colour)
no 9 (enlarge pupil)
no 11- tube range brown( most natural + most popular!!)
no 13- Ifax series
no 14- grey( 3 tone colour)
no 15( cat eye brown -gives a cat eye look- 3 tone)
no 18-violet (dreamy)

For the look you want to go into-->
Dreamy, watery look: no 1, 4 , 12, 18
Natural look : 10, 11, 16, 17, 18
Two tones(colours not as obvious as 3 tones): 5, 6 , 7, 8 ,9
Three tones: no 14, 15 ( pls note price wise will be $65 instead of $60 for 3 tones)

Going by Series

1)I-Fax - helps provide the clearest, most comfortable vision( no 1, no 2, no 12, no 13)
2)Cosmetic 2 colour range - ( no 5 , 6 , 7 ,9)- tend to make ur eyes much brighter . kind of reflect light
3) Tube range - ( no 11, 15, 13, 18, 17, 10) more natural looking range



GEO LENS
Introducing another big eye contact lens brand which is GEO, this brand is very very popular in Japan, those of you who have been to Japan, you may have seen thir brand around.
It is very comfortable and less drying than other big eye contact lens because of its high water content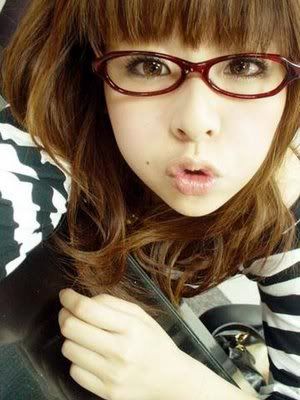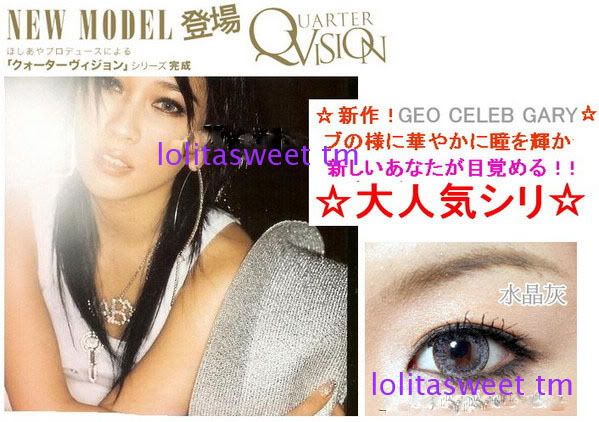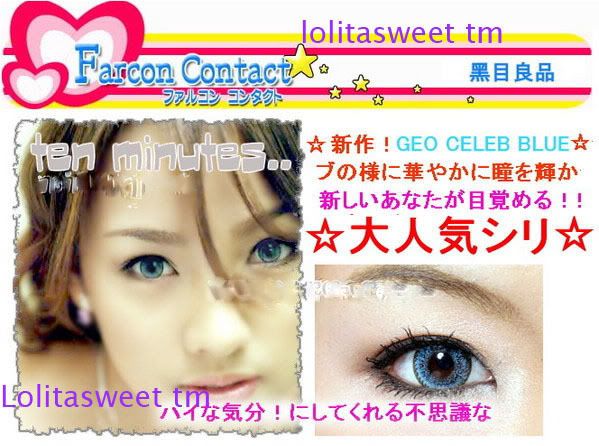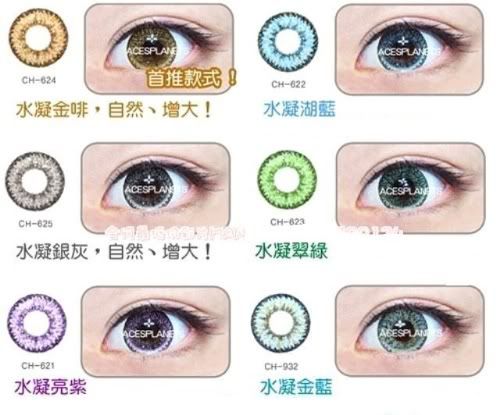 Thickness: 0.05mm
B.C: 8.6mm
Diameter: 14mm
Water Content: 42%

The price of each pair of lens is $57/pair nett which include the handling fees+shipping fees

3.BESCON LENS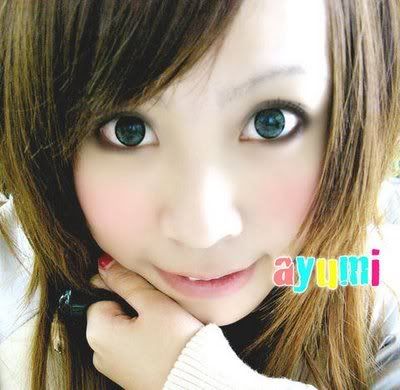 Very thin and comfortable lens. When wearing, dont really feel the lens.
Astig lens can be made for this brand with additional of $3/pair.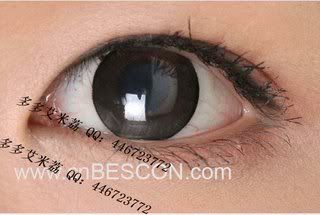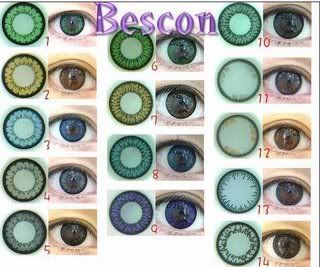 The price of each pair of lens is $57/pair nett which include the handling fees+shipping fees
4. FLASH LENS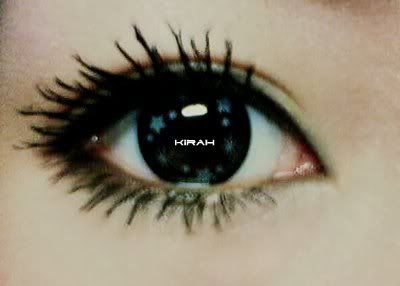 Very beautiful pair of lens! (:
Be one of the first to wear these special lens!
NOW AT $55 ONLY!


ALL THE LENS ABOVE ARE ONE PAIR, FOR A YEAR!
1) FULL Payment has to be made!
2) Preorder ending on 14th Nov o7.
3) Final Payment deadline is also on 14th Nov o7.
4) Full refund will only be make if items is out of stock.
5) You will have to bear FULL consequences if you did not take good care of your lens and eyes. Lens are in perfect condition when they're mailed to you.
6) Cancellation of order will resulted in payment being confiscated.
7) Meet ups are available to my convenience

Advice
Personally i feel if ur eyes not big enough, pls don't take black because with small eyes big pupil, you will definitely look weird. You can choose Brown instead of choose a lighter colour that will not emphasize your pupil so much!

Some common questions

Q: Can we use normal cleansing solution like complete to wash, soak?
A: Yes. please remember to add on protein tablets to use twice a month for extra cleansing. Please remember that these are 1 year lenses and you will want them as clean as possible! :)

Q: When will lenses arrive?
A: it will arrive around 2 weeks after preorder closes.

Q: Do you provide astig lenses? Can we order diff degrees for both sides?
A: No, currently we do not have astig lenses but yes, you can order diff degrees for both sides.

Q: What is your cleansing regime like?
A: I use Contact Lens solution like brands from AOSEPT PLUS Solution. You can also easily purchase Saline solutions at Optical shops to wash your lens before wearing. Every 2 weeks i use protein tablets to cleanse my lens too. :)


To place order, email
mmessences@hotmail.com

With the following information:

Name:
Mailing Address:
BRAND:
Code( pls take from the pic of all the lenses with numbering):
Colour:
Degree/Pwr : LHS: RHS:
Price $ =

*for registered postage, please top up another $2.20.
*for normal postage, please top up another $1.50.

note: registered postage is strongly encourage if u dont wish to see ur lens go missing.

Thank you.